On October 3, painter Nguyen Minh Son opened the exhibition "Vietnam Landscape" at the Fine Art Exhibition, 16 Ngo Quyen attracted a large number of people to visit.
Attending the opening ceremony were artist Luong Xuan Doan – Permanent Vice Chairman of Vietnam Fine Arts Association; painter Nguyen Xuan Thuy, Vice President of Hanoi Fine Arts Association, Vietnamese embassies in foreign countries, international tourists, and many colleagues and tourists who love paintings.
Using oil painting materials, artist Nguyen Minh Son launched more than 30 colorful works about Vietnam's landscape. The paintings displayed at the exhibition give viewers many levels of emotion, talent and soul that the author sends in the paintings.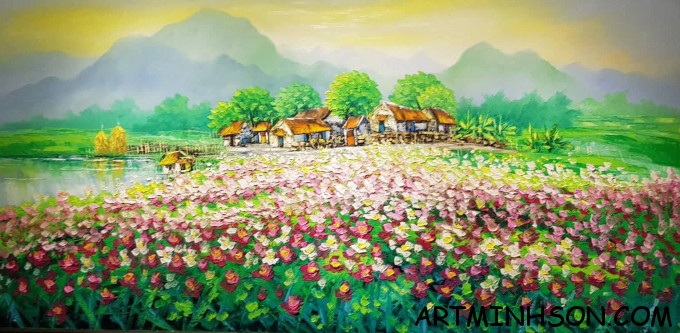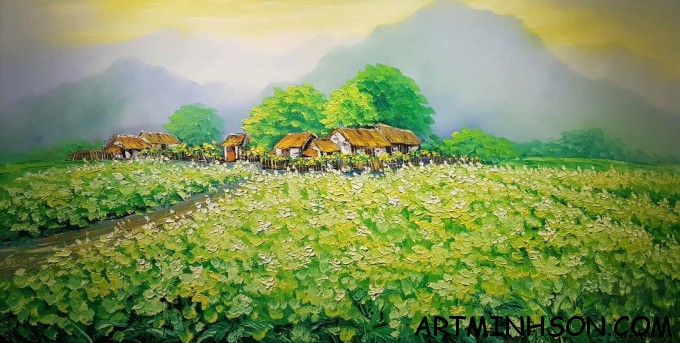 Mr. Vu Quang Minh, Ambassador of Vietnam to Cambodia in the exhibition shared: I personally have a predestined relationship with painter Nguyen Minh Son's paintings for a long time, paintings of the artist have a very unique, unique style, close to life of the country, Vietnamese people. The most special thing is that Son's paintings are admired by many of my international friends like the United Kingdom and other countries where I have worked.
Through the exhibition, artist Nguyen Minh Son has shown his own "I" through each work.
Experience daily life, landscape painting is a popular genre, easy for the audience to enjoy, so the majority of painters have more or less painted on this genre.
In order to assert themselves in this genre, the exhibitors have felt the author's magic, internal force and emotional transmission to the viewers in a "persistent" and strangely attractive way.
With the technique of using pen and knife smoothly with oil painting material and creativity in each stroke, the expression makes each natural picture of the artist has strong and flexible dots.
Visitors to the exhibition not only love Painter Nguyen Minh Son's paintings with their own points, but they also feel how to choose colorful and vibrant colors such as: Red, yellow, orange, blue, purple … to attract viewers to each detail.
Vietnam landscape painting by Painter Nguyen Minh Son shows the overall characteristics of Vietnam with a long tradition of agriculture; The landscape associated with thatched roof, the boat, the river, the village gate, the bridge, the well … the painter seems to be re-imagining in the minds of the viewers the simple and peaceful life of Vietnamese farmers .
Starting to debut in 2006, Painter Nguyen Minh Son has had many solo and collective exhibitions on different types of paintings. But the author always gives the Vietnam landscape painting a love as a "favor". Therefore, Vietnam landscape painting of Nguyen Minh Son has been well known and has been introduced in: the United Kingdom, the United States, Hong Kong, Korea, Singapore, etc., which has been warmly welcomed by many people.
According to Law legal Plus newspaper